There are two scenarios that explain why you are here, reading this article right now (besides the good SEO strategy behind it):
You're starting the search for a reporting tool that can free up your team from the grueling process of manual marketing reporting. You started with the renowned ones, but something doesn't add up, and you want to make an informed, wise decision.
Once again, you find yourself in yet another lookout for that tool your in-house marketing team needs to stop drowning in senseless data. You've already gone through the trial and process of Agency Analytics, and now you feel the need to explore other options.
So, what do you do? Let us help you find the answer based on facts.
In this article, we'll discuss how AdClicks reports can be a great alternative to Agency Analytics so that you can make an informed decision for your team's needs.
Company Overview: Agency Analytics vs. AdClicks
Agency Analytics Overview
Agency Analytics is a reporting tool designed for marketing agencies intending to automate client reporting and streamline processes. With numerous integrations and customizable reports, it has gained popularity among agencies of all sizes.
AdClicks Overview
On the other hand, AdClicks was created with one goal in mind–to provide growing agencies with branded automated reports and exhibit data-driven insights that result in enhanced client collaboration. With customizable templates, AdClicks aims to make client reporting effortless and impactful.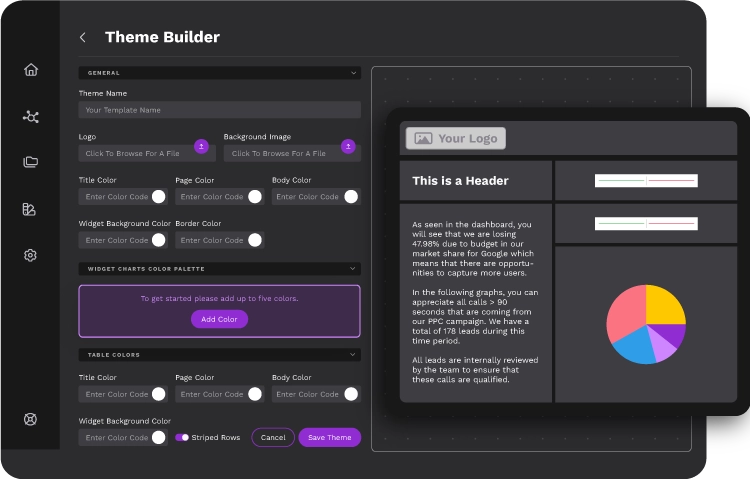 A Deeper Dive on Products and Features
For those looking for a marketing reporting tool, the features and products offered by a platform can make or break the deal.
Let's take an in-depth look at the offerings of both tools.
Agency Analytics
Agency Analytics prefers quantity when it comes to product offerings, with over 70 marketing integrations available. These include:
PPC Reports: Cross-channel, Google, Microsoft, Facebook & more.
SEO Reports: Real-time updates, backlinks, keyword analytics, and website analytics.
Social Reports: Facebook, Instagram, LinkedIn, Twitter, YouTube & more.
Call tracking reports: Integrations with platforms like Whatconverts and CallRail.
Email Reports.
E-commerce Reports.
However, the sheer number of options can be overwhelming for some agencies and may not necessarily align with their specific needs.
AdClicks
AdClicks takes a more streamlined approach to its product offerings, focusing on the most essential aspects of digital marketing reporting. However, this does not mean it compromises on features.
The Money Talk: Pricing
Pricing is as important as product offerings when choosing the right reporting tool for your agency. Below, you'll find a recap of the pricing structure for both platforms.
Agency Analytics
Agency Analytics offers a range of pricing plans for different types of agencies:
Monthly Per Client Campaign
Freelancer: $12/month.
Agency: $18/month.
Enterprise: Custom pricing available.
Annually
Freelancer: $10/month (Paid annually, get 2 months free).
Agency: $15/month (Paid annually, get 2 months free).
Enterprise: Custom pricing available.
About Free Trials
Agency Analytics offers a free 14-day trial.
A fact extracted from review forums: These plans include additional charges for each client account added. While the plans seem affordable at first glance, these additional costs can add up quickly, especially for growing agencies with multiple clients.
AdClicks
AdClicks offers a more straightforward and transparent pricing structure to its users by offering different plans:
Individual
Perfect for in-house marketing teams at $15/month or $10/yearly.
Basic
Ideal for marketing freelancers at $35/month or $30/yearly. Each additional account costs only $7/$6.
Pro
Great for small marketing agencies at $100/month or $85/yearly. Each additional account is priced at $9/$7.
Premium
Ideal for medium-sized agencies, priced at $229/month or $195/yearly. Additional accounts cost only $10/$8 each.
Enterprise
For those with 100+ clients, AdClicks offers custom pricing to cater to individual needs and requirements.
About Free Trials
AdClicks offers a free 30-day trial.
Note extracted from review forums: so far, there is no negative feedback or comments from users who have tried the free trial nor from the active clients of AdClicks.
What About the User Experience of Each Tool?
Apart from features and pricing, user experience is one of the reasons why people tend to drop one platform for another, which makes total sense, considering these tools are aimed at making marketers' lives easier, not adding more frustrations to it.
Here's how AdClicks and Agency Analytics compare in that regard.
Agency Analytics
Agency Analytics has a user-friendly interface with drag-and-drop capabilities to customize dashboards and reports. However, for some users, the high number of integrations can cause confusion, leading to a higher learning curve.
Furthermore, in terms of design, Agency Analytics may seem a bit outdated, with its interface only being available in light mode.
AdClicks
AdClicks also offers an intuitive and straightforward platform that is easy to navigate and use from the get-go. With a library of pre-made and customizable templates and the option to create reports from scratch, AdClicks makes it easy for agencies of all sizes to use and understand, avoiding the hassle of getting lost with integrations.
As an added value, AdClicks' templates (find a live template here) has a captivating design that looks modern and professional.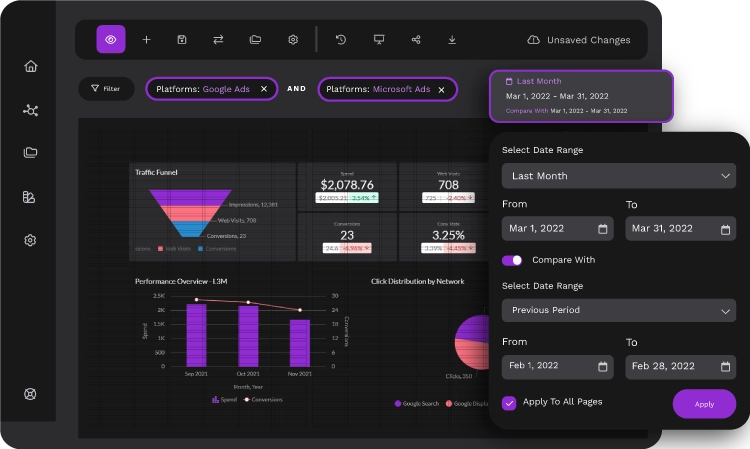 Strengths of Each Reporting Tool
Moving on from products and pricing, let's highlight the strengths of each reporting tool to help you understand how they can benefit your agency.
Strengths of Agency Analytics
With over 70 integrations, it is a great option for large marketing-related data.
Offers a free 14-day trial with no credit card information required to start.
Well-known and trusted among agencies and marketers.
Customer support actively takes feedback, and users can submit recommendations/suggestions through a dedicated portal.
Strengths of AdClicks
Fully white-label customizable platform to cater to each agency's unique needs.
Offers a free 30-day trial with no credit card information required to start.
The platform is designed for speed, allowing you to download only the data you need in minutes.
Provides flexibility through customizable templates and the ability to create reports from scratch.
Connect unlimited credentials from key data sources.
Has a better interface and overall design of the reporting platform.
The Final Verdict: Is AdClicks a Viable Agency Analytics Alternative?
As we've seen, both Agency Analytics and AdClicks offer essential features and strengths that can benefit different types of agencies. So, what is the right choice for you? Ultimately, the best solution is the one that meets your agency's specific needs and budget.
If you're looking for a more extensive free trial period and a fully customizable platform, then AdClicks may be the better option because when it comes to personalized reporting, customization, and value for money, AdClicks stands out.
With transparent pricing plans and a focus on the most crucial aspects of digital marketing reporting, it is an ideal alternative to Agency Analytics for agencies of all sizes.
Plus, its user-friendly interface and customizable options make it easy to use and understand, making it an excellent addition to any agency's toolkit.
So why not give AdClicks a try with a free 30-day trial? Experience the difference for yourself and see how AdClicks can elevate your reporting game and drive success for your clients.
After all, isn't that what every agency strives for?
Share This Article With Your Network
No Spam. Only Useful Content and Updates.
Subscribe