Marketing is a field that is constantly evolving. As a result, marketing agencies must be able to adapt quickly to the changing data environment. One way to achieve this is by operating with the best digital marketing tools available.
The right tools can help agencies streamline processes and maximize marketing efforts. But with so many available options out there today, with audiences constantly revolutionizing their behavior, and with new technologies popping up daily, deciding which tools are worth investing in can be challenging.
This blog post will explore the essential factors to consider when choosing marketing tools, the must-have tools for digital marketing success, and how they can help agencies make data-driven decisions and improve their marketing outcomes.
But first, make sure to complement this blog with The Marketing Matters Show podcast to get more insights about digital marketing.
Essential Factors to Consider When Choosing Marketing Tools
1. Consider Your Agency's Needs And Goals
Knowing your agency's needs and goals will help you narrow down the best tools for you since every agency is unique, and what works for one may not work for another.
Start by assessing your current marketing processes and identifying any areas that need improvement.
Next, ask yourself what you want to achieve with the tools you invest in. Is it to increase leads, improve customer engagement, or monitor client campaigns more efficiently?
2. Choose Tools That Are Easy To Use And Integrate
Marketing tools can be a big investment, so it's essential to choose ones that are user-friendly and integrate seamlessly with each other. This way, you can reduce the time spent on training and ensure that your team can navigate the tools without complications.
Furthermore, integrating tools can improve workflow and reduce the likelihood of errors. Some tools that blend well include Google Analytics 4 and Google Search Console, with reporting tools like AdClicks. But we'll talk more about that later on.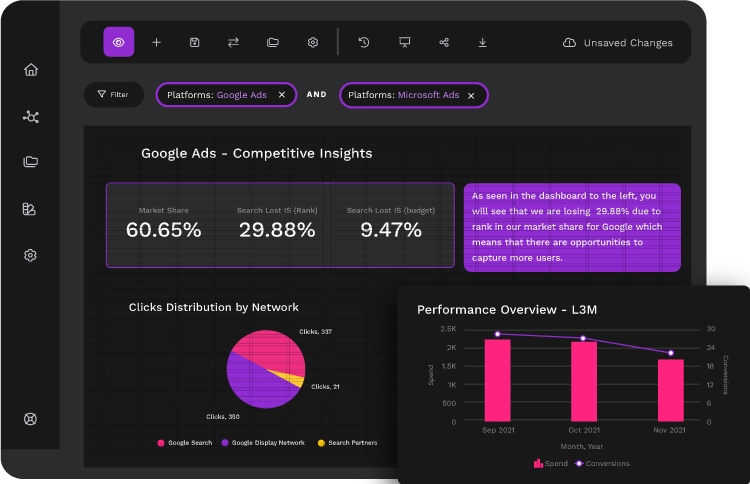 3. Prioritize Tools That Offer A Good Value For The Price
While marketing tools can be costly, prioritizing those that provide a good return on investment is crucial. However, avoid making price the sole deciding factor.
Be sure to evaluate each tool's features, functionalities, and level of customer support. Sometimes, a tool that costs a little more upfront can save you money in the long run by increasing your efficiency.
4. Read Reviews And Compare Features Before Making A Decision
Customer reviews are invaluable in today's decision-making process. By reading reviews, agencies can gain valuable insights into the pros and cons of different marketing tools. It's also important to research the main competitors in their field and compare the features of each tool to determine if any of them meets your agency's needs.
The Must-Have Tools for Digital Marketing Success
With an understanding of the critical factors influencing marketing tool choice, let's explore the indispensable tools for achieving digital marketing success.
Social Media Marketing Tools
Social media is a valuable tool for agencies looking to increase their online presence and reach new audiences. Here are some tools that can help you manage your social media campaigns effectively:
Facebook Insights
Facebook Insights provides detailed metrics about your page activity, engagement levels, and audience demographics.
This high user base and penetration rate can benefit agencies looking to reach new audiences. Additionally, its powerful analytics tools allow you to measure the effectiveness of your campaigns and optimize them for maximum success.
YouTube
YouTube is the second most popular social media platform, with over two billion monthly active users.
Agencies can leverage YouTube to create and share ads and content like video tutorials or product reviews. This platform's extensive reach and engagement rates make it a valuable asset for agencies looking to increase their digital presence.
Instagram Insights
This tool deeply examines your Instagram profile's performance, including follower demographics, reach, and engagement. Knowing this data can help you create targeted campaigns and increase your reach. Additionally, Instagram Insights can be used to measure the success of your campaigns and optimize them for improved performance.
LinkedIn Insights
LinkedIn is a powerful platform for B2B marketing, and LinkedIn insights can help you track the performance of your company page. Use this data to understand better your target audience and how to engage with them. You can also use LinkedIn insights to measure the success of your campaigns and gain valuable insights into what's working and what needs improvement.
PPC Tools
Pay-per-click (PPC) advertising can help agencies attract highly targeted leads. Here are some tools that can help you manage your PPC campaigns effectively:
Google Ads
Google Ads is the most popular PPC advertising platform on the web. It offers robust targeting options to help you reach your desired audience. Additionally, its powerful PPC reporting features allow you to track the performance of your campaigns and make data-driven decisions.
Microsoft Advertising
Also known as Bing ads, Microsoft Advertising gives you access to both the Bing and Yahoo search engines. It's also easy to set up and manage campaigns on MS Ads.
Click here to learn how to connect AdClicks to your Microsoft Advertising account
LinkedIn Ads
LinkedIn allows advertisers to target based on job title, company size, and industry, making it a powerful tool for B2B marketing. Additionally, LinkedIn Ads enables you to target the exact professionals you need to reach, making it a great choice for businesses looking to gain visibility within their niche.
Facebook Ads
Facebook is one of the world's most widely used social media platforms. Through Facebook Ads, you can target people based on their interests, location, and other demographic information. You can also use the platform to boost organic content, such as blog posts and social media posts.
Click here to learn how to connect AdClicks to your Facebook Ads account
Tools for SEO Management
Search engine optimization (SEO) is essential for increasing your website's visibility on search engines. Here are some tools that can help you manage your SEO effectively:
Google Analytics 4
Google Analytics 4 is a powerful tool for analyzing website data and understanding user behavior. It can help you pinpoint problems in your content that might hurt your SEO rankings, allowing you to adjust your strategy and see results quickly.
Click here to learn how to connect AdClicks to your GA4 account
Google Search Console
Google Search Console is another strong tool for monitoring your website's performance on search engines. It provides detailed reports and insights into how users find your content and any potential errors that need to be fixed to boost visibility.
Semrush
One of today's most popular SEO tools, Semrush is an all-in-one suite of features that can help you monitor your website's performance and ranking. It provides a wealth of data to identify any issues holding your site back from reaching its full potential in search engine rankings.
Lead Management Software Tools
Lead management software tools can help you track leads and automate your follow-up process. Here are some tools that can help you manage your leads effectively:
CallRail
This lead-tracking software helps you manage and track incoming leads from various sources. It can provide detailed data about how your leads interact with your website, which will help you identify any areas needing improvement.
Click here to learn how to connect AdClicks to CallRail
Call Tracking Metrics
And last but not least, this platform allows you to track phone calls and capture lead data to help you improve your marketing efforts. It can also provide valuable insights into how your leads respond to different campaigns.
Overall, these tools will help you stay organized and on top of your marketing processes to serve your customers better and increase conversions. With these tools, you'll be able to:
Monitor and evaluate the success of each campaign
Track lead progress throughout the sales cycle
Provide better customer service through real-time support
Quickly and easily identify new opportunities for growth
Measure ROI from your marketing efforts.
Now, Use These Tools To Make Data-driven Decisions And Improve Your Marketing Outcomes
The value of these digital marketing tools extends beyond the boundaries of superficial benefits–they are not mere instruments but the heart and soul of your daily workflow.
Integrating these tools into your everyday operations significantly improves efficiency and productivity. You no longer have to juggle between different platforms; instead, these tools serve as a centralized hub for all your marketing needs, streamlining processes and simplifying tasks.
The Integral Role of Reporting in Modern Marketing
A critical component of successful marketing is reporting. Reports provide tangible evidence of your marketing efforts and their outcomes. They offer a clear, concise, and detailed account of your performance metrics, serving as a roadmap to your success.
With regular and accurate reporting, you can identify which strategies are working and which aren't, allowing you to make informed decisions and optimizations. Reporting enables you to measure the impact of your marketing strategies on your key performance indicators (KPIs), contributing to better decision-making and improved marketing outcomes.
AdClicks: Your Affordable, Comprehensive Marketing Solution
One such tool that consolidates all these features and more is AdClicks.
Designed to work harmoniously with the aforementioned tools, AdClicks amplifies its capabilities while providing unique benefits.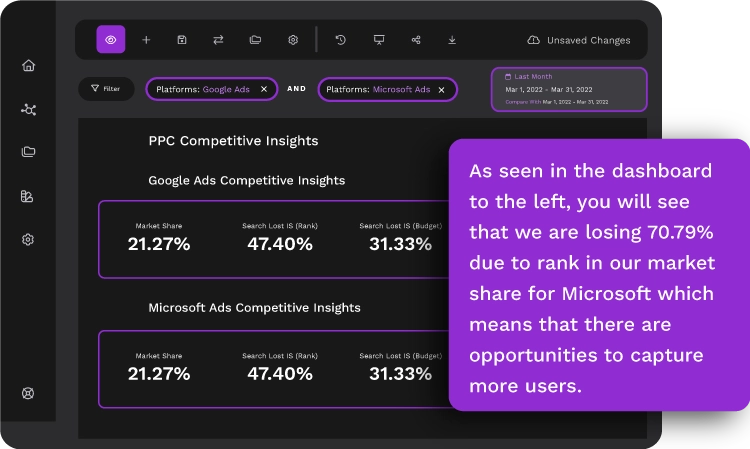 Our primary strength lies in our cost-effectiveness–you receive robust functionality and comprehensive insights at an affordable price point.
But the real diamond in the rough is our bespoke, which is that we understand that each business is unique and provide customized reports tailored to your needs.
These reports provide granular insights into your marketing efforts, enabling you to track and optimize your strategies effectively. With AdClicks, you're not just getting a tool but a partner committed to your marketing success.
Ready to take your marketing to the next level? Experience the power of AdClicks first-hand by signing up for our 30-day free demo!
Alternatively, if you have any questions or need further information, don't hesitate to schedule a consultation with our friendly and knowledgeable team. They're always ready to help you make the most out of your marketing strategies.
Click here to sign up for your free demo or here to schedule your consultation today!
Share This Article With Your Network
No Spam. Only Useful Content and Updates.
Subscribe