Did you know that companies that leverage custom marketing reports are 1.5 times more likely to achieve their revenue goals than those that don't?
It's no secret that understanding customer behaviors and preferences is crucial for businesses to succeed and grow in a competitive market. However, it's not always easy to parse through the overwhelming amount of data available.
Fortunately, custom marketing reports can provide valuable insights, allowing you to make better-informed decisions that enhance your agency's value.
So, if you want to differentiate your agency from the competition and deliver maximum value to your clients, it's time to invest in custom marketing reports. Let's explore how!
What Are Custom Marketing Reports?
The methods to connect with customers and assess the effectiveness of online marketing have changed drastically over time. Today, businesses rely heavily on online channels. As such, there is a need to incorporate apps, software, and tools that extract numbers, metrics, and other data to make sense of marketing efforts.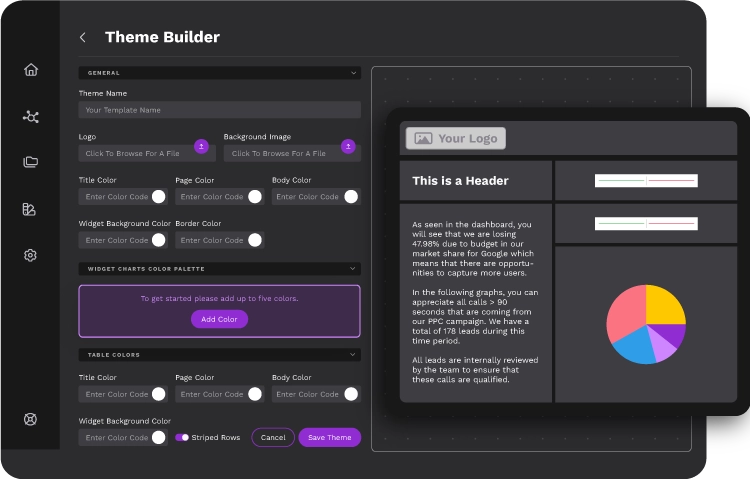 Custom marketing reports are a key component in this equation as they enable agencies to develop tailored reports that provide meaningful insights into the performance of campaigns, customer behaviors, and ROI for digital advertising.
The special thing with custom reports is that they are tailored to specific agency needs, considering the goals of a marketing campaign, the channels used, and other aspects. This means that rather than relying on off-the-shelf reporting, which may not provide an accurate picture at times, agencies have access to data generated by their efforts and can use it to identify trends in user behavior or determine where to allocate resources.
Understanding the Benefits of Custom Marketing Reports
Among the many benefits of custom marketing reports, the following stand out:
Accurate Data Interpretation
Custom-made reports enable you to interpret data more accurately. With streamlined data analysis, you can easily identify patterns and gain insight into emerging trends, helping you make more informed decisions.
Personalization
Every business has unique requirements and preferences regarding the type of data and insights they require. Custom marketing reports allow you to display information in a way that makes sense for your business needs, thus ensuring that you get the most out of the data.
Improved Efficiency
Analyzing data can be tedious, time-consuming, and counterproductive for your business. Custom marketing reports eliminate the need for such laborious tasks, saving you precious time and money.
Easy-To-Understand Results
Marketing reports made specifically for your business can help present data in a more visually appealing and easy-to-comprehend format. This, in turn, makes the data easier to understand and articulate to stakeholders.
What Specific Features Should Custom Reports Have?
Custom reports should always be tailored to your specific needs, but a few key features should be present in any report. These include:
Powerful data filtering: Custom reports should have the capability to filter out unnecessary information and only display data that is relevant to the report. This will help you focus on the most important metrics.
User-friendly interface: Reports should be easy to use and understand, making it simpler for stakeholders to interpret results.
Real-time updates: Reports should update automatically as new data is added, providing up-to-date information at all times.
How Do You Research and Gather Data for Your Personalized Reports?
Creating custom marketing reports requires thorough research and data gathering. To do so, you need to know the type of information that is necessary for your report. Your research should focus on what kind of insights will be most valuable and relevant to your business goals.
One easy way to gather relevant data is to use tools or analytics software that gives you access to customer information.
So, how does it all work? Here's a mini guide on how to make an easy marketing report with AdClicks:
Firstly, we plug the right parameters into AdClicks. This means choosing the right integrations to monitor the performance of our marketing campaigns.
Then, AdClicks captures and organizes all of the data generated by those parameters, from clicks to impressions and every bit in between.
Next, you need to analyze how your campaigns are doing by drilling down through the data AdClicks collected.
After you've identified important insights, your team can formulate custom marketing reports to present the information meaningfully and easily digestibly.
Ultimately, these reports can be shared with clients to reveal actionable insights for improvement or used to keep our marketing team on the same page and up-to-date.
By using AdClicks, we're able to research and gather accurate and relevant data, making the process of creating custom marketing reports a whole lot easier.
To learn more on how to connect your marketing integrations to AdClicks, watch this AdClicks 101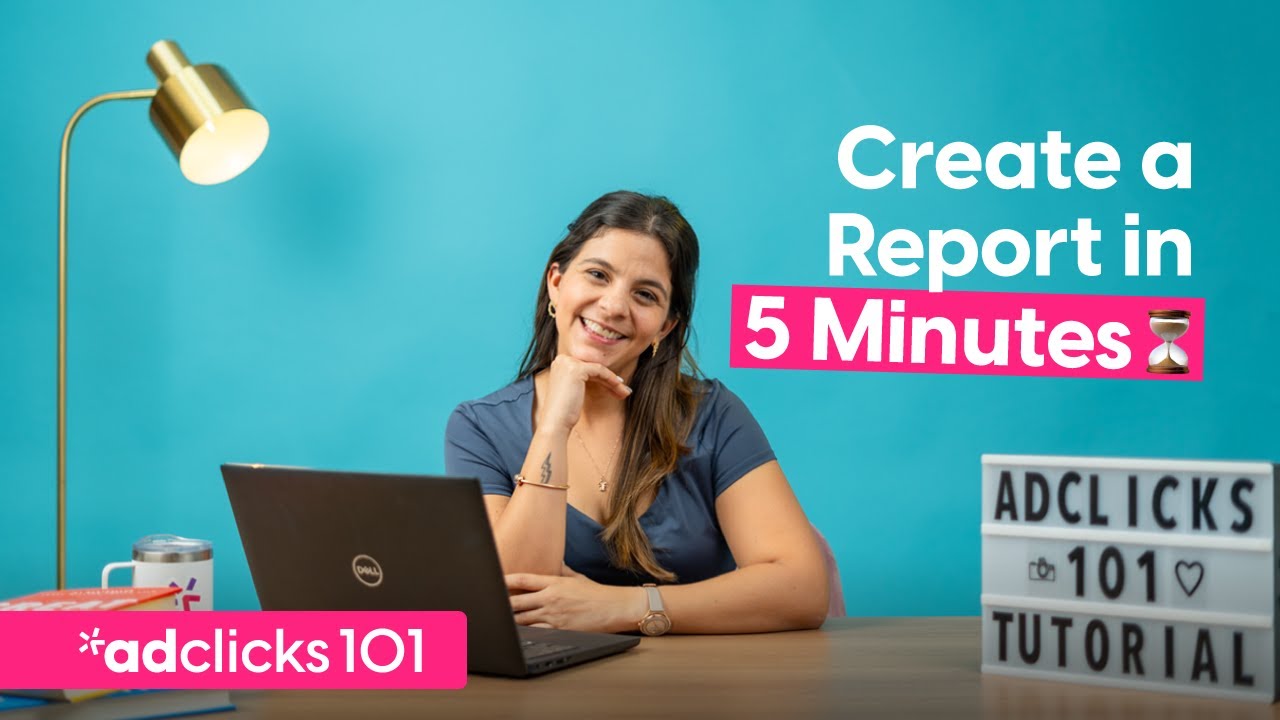 Analyzing the Data and Creating New Insights
Data analysis is just the beginning; the real value comes from creating insights and uncovering opportunities to help you make informed decisions.
Once you have gathered all your data, the next step is to analyze and interpret it to extract the insights that will guide your business strategy. Consider applying these analysis techniques:
Trend Analysis: Analyzing the data over time to uncover patterns and understand the direction of a trend.
Segmentation Analysis: Examining similarities and differences between different groups of customers or prospects to determine how they behave and why.
Correlation Analysis: Identifying relationships between different sets of data, such as which factors affect customer retention
From there, you can use custom reporting to present the insights in a meaningful and actionable way for your team and your clients.
Why You Should Choose AdClicks To Transform Your Agency's Reporting Process
If you're tired of manual reporting, dispersed data, and delayed decision-making, it's time to switch to AdClicks.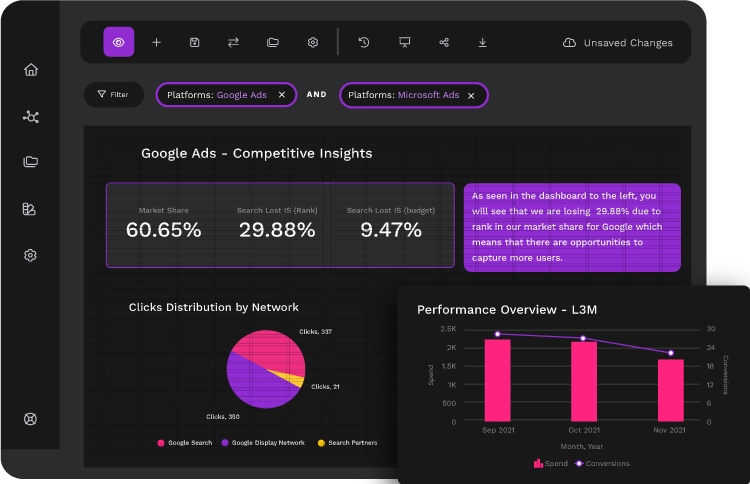 Centralize Your Data Sources and Get a Comprehensive View of Your Campaigns
Our reporting platform can transform your agency's reporting process by centralizing all your data sources in one place. AdClicks consolidates metrics from multiple channels and platforms, giving you a comprehensive view of your campaigns in one convenient location. This means no more wasted time compiling data from different sources for your reports.
Clear Visualizations and Easy-to-Use Tools for Analysis and Optimization
AdClicks also provides clear visualizations and easy-to-use tools for analysis and optimization to improve ad performance quickly.
Automate and Customize Your Reporting Process to Save Time and Boost Productivity
Moreover, our platform enables you to automate and customize most of the reporting process so that you can get more done in less time and focus on other essential tasks.
By using AdClicks, you can streamline agency operations, free up resources, and boost productivity.
Get in touch with us today to schedule a demo and see how AdClicks can transform your reporting process.
Share This Article With Your Network
No Spam. Only Useful Content and Updates.
Subscribe