It's that time of the year again when the streets are filled with pumpkins, ghosts, and ghouls. But Halloween is not just for trick or treating; it's also the perfect time for digital marketing agencies to showcase their creativity.
With this holiday season just around the corner, it's time to start planning how to connect with your audience through this special time and integrate new ideas into your marketing strategy.
In this article, we'll highlight some Halloween marketing ideas you can implement across various marketing channels, such as PPC, SEO, and social media, to engage your audience and get incredible results.
So grab your pumpkin spice latte, sit back, and get spooked by our tips and tricks.
Why Should You Care? The Impact Of This Holiday On Marketing
For some marketers, there is an old-school debate about using Halloween for digital marketing. On one side, some believe it may seem cheesy or unnecessary, while for others, it's an opportunity to break away from the "business as usual" tactics and get creative.
So, what's the right side to take?
Research shows that Halloween is a great opportunity for marketing because it's one of retailers' most important days of the year.
According to the National Retail Federation, in 2022, Americans spent over $10.6 billion on Halloween, and this year, the spending rate is expected to reach a record of $12.2 billion. This means consumers are actively searching for seasonal deals and promotions–the perfect opportunity to get creative with your Halloween marketing strategies.
With Halloween serving as a cornerstone, the United States holiday season, extending from October to January, represents a commercial juggernaut.
According to a publication from Statista, in 2020, despite pandemic concerns, holiday retail sales surged to a staggering 777 billion U.S. dollars, accompanied by a 2.5 billion U.S. dollar investment in advertising by the sector.
Moreover, digital dominance in holiday marketing has become evident, with online ad revenues consistently spiking in Q4. Consumer preferences align with this digital shift, with brand websites, customer reviews, and social media posts influencing purchasing decisions.
If you want to know where the jackpot is for this season, the following chart from NRF shows the main expected spending categories.
Spooktacular Ideas To Stand Out On Different Marketing Channels
Following the golden rule of AdClicks: "Now that we have the data, it's time to act upon it,"
The shown metrics in this article are undoubtedly encouraging, BUT it's important to remember that with great opportunity comes great competition. That means you may not be the only one trying to take the most out of this season's marketing potential.
The key here is that whatever you do, always stamp on it to ensure your audience knows it's you.
Now, for extra help and inspiration, let's have a look at some effective AdClicks ideas that will help you outshine your competitors and stand out among the hordes of Halloween-themed advertising:
1. Elevate Your PPC Strategy with Spooky Halloween-themed ad Campaigns
Take your client's accounts to the next level this Halloween season by crafting eerie, attention-grabbing ad campaigns.
Halloween Keywords
Start by creating Halloween-themed ad copy and landing pages that resonate with the holiday spirit. For instance, if your client sells costumes, incorporate keywords like "spooky," "Halloween costume," and "trick-or-treat" into ad headlines and descriptions. Use ad extensions to highlight special promotions, exclusive online offers, and discount codes.
Run A/B Testing
To maximize the effectiveness of your Halloween PPC campaigns, consider running A/B tests on ad creatives and targeting options.
Experiment with different ad formats, such as responsive search and display ads showcasing Halloween-themed visuals.
Additionally, allocate a budget for Halloween-specific keywords and schedule your ads to appear during peak hours when users actively search for costume ideas and decorations.
Remember, the goal is to drive traffic and convert those clicks into leads and sales. Leverage the excitement around Halloween to generate urgency in your ad copy.
For example, use phrases like "Limited-time Halloween Offer" or "Spooktacular Savings" to entice potential customers. By implementing these strategies, you can turn Halloween PPC campaigns into a treat for your clients' accounts.
2. SEO Spells for Halloween: Ranking Higher on SERPs
SEO (Search Engine Optimization) is a vital component of any digital marketing strategy, and Halloween presents a unique opportunity to boost your client's online presence.
Optimize Their Website For This Season
Start by optimizing their website for Halloween-related keywords and phrases.
Conduct keyword research to identify the most-searched Halloween terms in your client's niche. Create Halloween-themed blog posts, articles, and product descriptions that incorporate these keywords naturally.
Consider the user intent during this season. People search for costume ideas, decorations, party-planning tips, and more. Ensure your client's website provides valuable, informative content addressing these needs.
For example, if your client sells home decor, publish blog posts on "5 Spooky DIY Halloween Decorations" or "How to Throw a Memorable Halloween Party."
Pay Attention To Local Seo
Don't forget about local SEO if your client has a physical store. Optimize their Google Business Profile listing with Halloween-related information, such as special hours, promotions, and images of their Halloween-themed displays.
Additionally, backlinks are essential for SEO success. Reach out to influencers and bloggers in the Halloween niche for collaborations and guest posts. These partnerships can help improve your client's website authority and search rankings.
3. Conjure Up Social Media Magic with Halloween-themed Content
Social media is the perfect platform to create a buzz around Halloween and engage with your client's audience.
Include Special Events On Your Content Calendar
Start by developing a content calendar that includes a mix of spooky, fun, and informative posts. Share sneak peeks of Halloween-themed products, behind-the-scenes looks at costume preparations, and customer testimonials about past Halloween purchases.
Reward And Connect With Users
Encourage user-generated content by running Halloween-themed contests and giveaways. For instance, ask customers to share photos of their Halloween costumes featuring your client's products with a dedicated hashtag and reward winners with exclusive discounts or Halloween-themed merchandise.
Go Visual
Take advantage of the visual nature of platforms like Instagram. Create eye-catching graphics, videos, and infographics showcasing costume ideas, makeup tutorials, or decorating tips. Use Halloween-related hashtags to increase the visibility of your posts.
Leverage Instagram and Facebook Stories to provide real-time updates on flash sales, limited-time offers, and Halloween events. Remember to decorate your client's social media profiles with Halloween-themed cover photos and profile pictures to create a cohesive brand image.
4. Ghoulishly Good Halloween Bundles for Increased Sales
Boost Sales with Product Bundles
One of the most effective ways to drive sales during Halloween is by offering themed product bundles. Analyze holiday sales data to identify which products are frequently purchased together.
For example, if your client sells makeup products, bundle items like lipstick, eyeshadow, and face paint to recreate popular Halloween looks inspired by trending pop culture references.
Similarly, if your client offers Halloween decorations, create bundles with complementary items like spider webs, candles, and eerie sound effects for a complete haunted house experience.
To promote these bundles, offer a discount when customers purchase them together. Highlight the convenience and cost savings of buying a complete Halloween set rather than individual items. Use persuasive product descriptions and high-quality images to showcase the value of these bundles.
Create Seasonal Landing Pages For Bundle Backup
Consider creating landing pages specifically for Halloween product bundles and promote them through your PPC campaigns, social media, and email marketing. By offering curated bundles that cater to the needs of Halloween enthusiasts, you can increase the average order value and drive more sales for your clients.
Incorporate these Halloween marketing ideas into your strategy, and watch your clients' accounts flourish during this spooky season.
Bonus Tip: Tools And Resources For Halloween Marketing
Of course, to get this plan executed the best way possible, you'll need to have the right tools and resources on hand. Here are some helpful tools and resources to get you started:
AdClicks: the AdClicks reporting tool allows you to measure performance across channels (PPC, SEO, social media, lead management) and optimize campaigns for better results.
Google Ads: with Google Ads, you can create effective display and search ads to target Halloween-specific keywords.
Google Analytics: understand customer behavior, track conversions, and measure the performance of campaigns with this powerful tool from Google.
Microsoft Advertising: set up and manage campaigns across multiple channels with this comprehensive yet easy-to-use platform.
Facebook Ads: target Halloween-specific keywords and demographics with this powerful advertising tool.
YouTube Ads: use video ads to reach out to potential customers during the Halloween season.
Instagram Ads: target relevant audiences with eye-catching visuals through Instagram ads.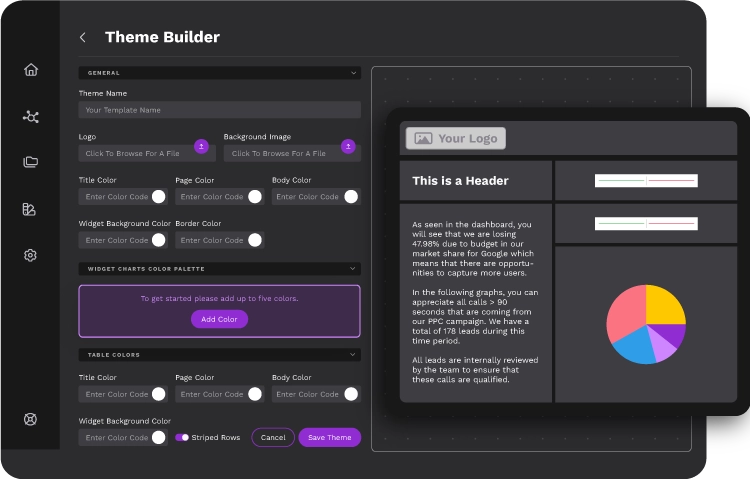 Dont Forget About Measuring The Impact Of Seasonal Tactics
Finally, remember that measuring the impact of your seasonal tactics is just as important as setting them up.
With this data at hand, you have a clearer perspective of what works and is worth repeating and what you can improve for next year.
Make sure to consolidate your data from these platforms, track your progress, and get a 10/10 for impressing your clients with AdClicks' features.
AdClicks stands ready to help you succeed with your seasonal marketing strategies—and it all starts with a free trial!
Book a call with our team of experts, who will work closely with you to understand your goals, determine the best approach for reaching them, and develop a plan to get you there. We look forward to hearing from you!
Happy Halloween! 🎃🤩🦇🍬💀⚰️🥳🤡👻🧙‍♂️👹☠️😈🎃✨👽😱⚡
Share This Article With Your Network
No Spam. Only Useful Content and Updates.
Subscribe