When it comes to marketing efforts, it is crucial to know how they are performing to ensure you are making smart decisions toward getting better results. But to understand if all these marketing efforts are working out on your behalf, it is also essential to know how to make a marketing report that shows your strategies' progress and the actionable insights to optimize your marketing campaigns.
According to Think with Google, marketers are 39% more likely to see a better performance when they deploy tools within a complete marketing analysis stack. In other words, the more you understand what's happening with your campaigns, the higher your chances of success.
That, in theory, sounds easy peasy, but the truth is, analyzing and measuring all the information to build a report is tedious and time-consuming when you don't have the right tool that fits your and your client's needs–that's when customized and automated reporting software can save you big time.
If you want to stop breaking the sweat and start making easy, automated, and customized reports, then this article is for you.
Here is a simple and practical AdClicks guide for building enhanced marketing reports.
But First Thing First, What Is a Marketing Report?
A marketing report is a compilation of data from different channels and sources that helps you evaluate the progress and performance of your strategies and campaigns over a specific time.
Marketing KPIs and metrics are the main sources of marketing reports. These data provide valuable insights into how the marketing efforts are leading in the right direction so you can optimize them to get high-quality results and continue improvement.
But, the advantages of marketing reports go beyond analytics and data. If you really want to stand out, you can use reports to predict marketing trends and use them to approach new goals and develop innovative strategies that can push you into the market spotlight.
Also, marketing reports allow you to discuss areas of improvement, accurate results, and future goal settings with your clients, ensuring effective communication and transparency to keep their satisfaction.
Now that we have covered some facts about this topic let's jump into the real conversation.
What Should You Include In a Marketing Report?
What you include in your report strongly depends on the online channel, the KPIs to showcase your progress, and the type of report you want to create.
Whether you decide on an SEO Report, Social Media Analysis, or a PPC report, here are some points you must take into account:
1. Introduction and summary
A brief overview of your project, activities, and purpose provides high-level marketing insights. In this section, you can showcase key points in the report, such as successes, challenges, and new goals for the upcoming reporting period.
Tip: based on your marketing report data, the summary should suggest actionable insights and recommendations leading to smarter strategies to improve overall results.
2. Metrics and data analysis
Metrics and data analysis refer to collecting, organizing, and evaluating numerical and statistical information to identify patterns, trends, and insights that will help you improve your business decision-making.
3. Explanation of results
Adding some context about the numbers and statistics in your report can help you get a better interpretation of them. Here, you can make comparisons between metrics, explain what you have been doing on specific channels, or present the next steps based on the performance of your activities.
Steps To Create a Marketing Report
Let's create one now that you know what to include in your marketing report.
1. Set your marketing report's purpose
Make sure your report is not only a bunch of numbers and set a purpose that gives meaning to what you want to share. Before gathering the data and starting to build the report, try to understand what you want to learn from it, the purpose of the message, and how to convey it.
Are you looking to measure the effectiveness of marketing campaigns? Do you want to justify marketing expenses or study marketing trends over a period of time?
Addressing these questions will help you to focus on data that build your marketing strategy, guide your decisions, and assist you in achieving better results.
2. Collect and analyze the data
Once you decide what you want to present in your report, the next step is gathering, filtering, and analyzing your data. You can use plenty of tools to capture key marketing data and make your job easier, but if this still sounds deadly dull to you, we can help. With AdClicks, you can gather real-time data from different platforms in one click and make accurate reports, enabling you to tailor your analytics to your specific goals and objectives.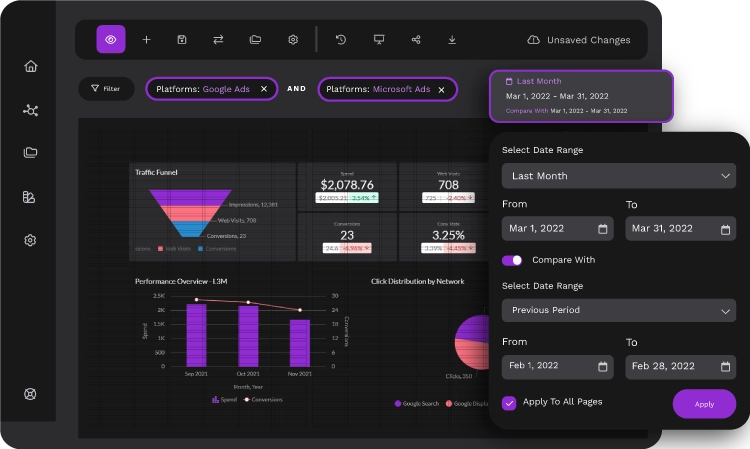 3. Write and design the report
Now that you have collected all the data and information, it's time to craft your report in a digestible, understandable, and actionable format. For that, it is important to visualize the data as much as possible. According to a study by Cornell University, illustrated data (e.g., graphs and charts) are also more believable because humans process visual data 60,000 faster than written.
Be aware that the data you include is valuable and helpful. Place the most impactful data first to ensure your report's engagement and interest.
Build a Marketing Report With AdClicks
AdClicks is a marketing reporting tool for marketers that can be synced to various data sources, simplifying your work by centralizing your information into one platform.
With our marketing tool, you can consolidate data across PPC, SEO, Socials, and Lead Management platforms. This is why our suite of reports is highly customizable and automated, helping you minimize time spent on reporting tasks and limit the possibility of errors.
Sign up for AdClicks today and experience the power of automated marketing reports.
And by the way, if you are a marketing geek, we've got something for you!
Keep learning about marketing reports in our AdTips below 🤓💻📊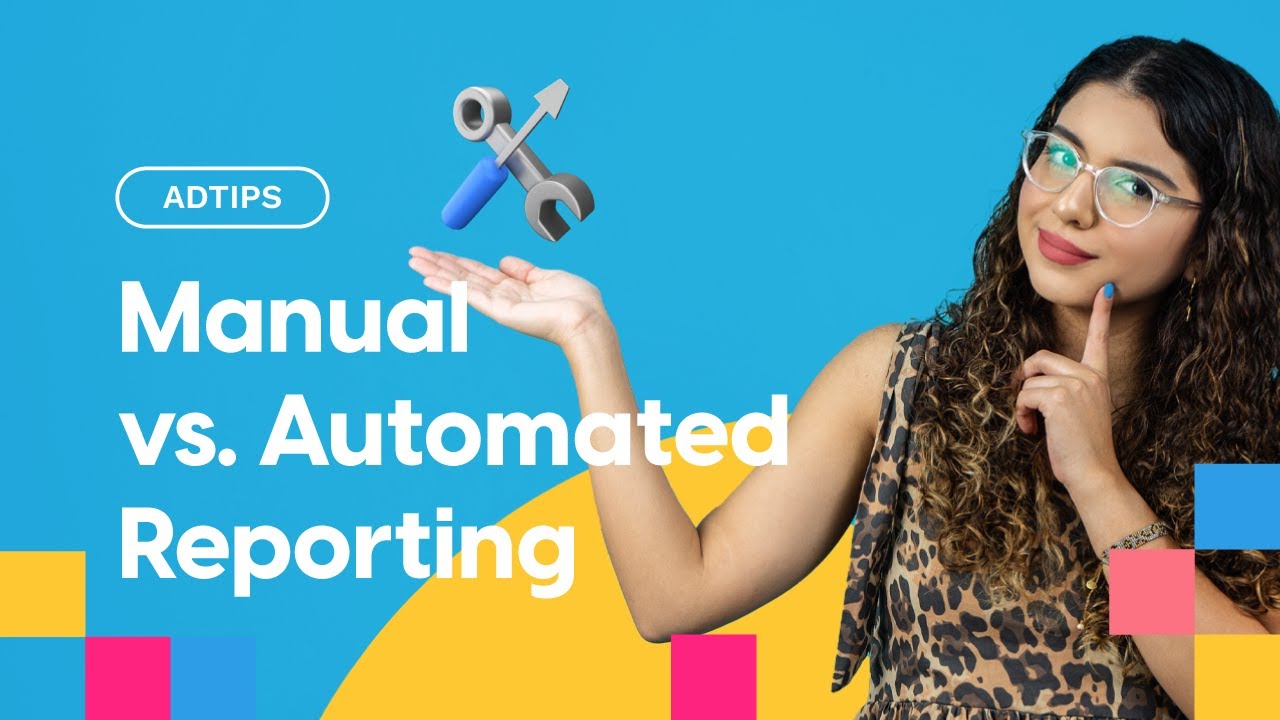 Share This Article With Your Network
No Spam. Only Useful Content and Updates.
Subscribe